Is JavaScript disabled on your browser?
We're working on a way to make Superbooks work without JavaScript. You'll need javascript on your browser until we're ready.
Ladakh - A Journey To Little Tibet

Satie Sharma • May 14th, 2018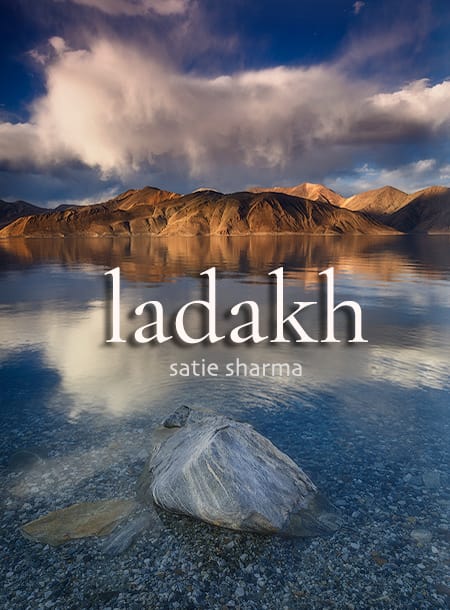 Ladakh - A Journey To Little Tibet
---
Length:

About 1 hour.

Price:

FREE

Support:

All devices, all viewports, all operating systems and all modern browsers.

See support page for more information.

This book is "iPad first" and is supported on all iPads Gen 2+, iPhones 4+ (Safari, Chrome or Firefox), Kindle Fire HDX 8.9 (Silk) and above, Google Nexus & Android 5+ (Chrome, Firefox or UC Browser) and all versions of modern desktop browsers on windows, mac or linux.

Some books may contain webgl or shaders that could limit support or experience on older devices or browsers.
Synopsis
Ladakh is usually described as a high-altitude desert but it is much more than just that. It is a land of high passes, lakes the color of turquoise, isolated monasteries, ancient rituals and, of course, a fantastic cold desert of monumental beauty. It is situated at the crossroads of High Asia with the Great Himalayas to its south and the eastern Karakorum mountains to it north. It is separated from Kashmir by the Zanskar range and from China by the Pangong range. Within these terrific boundaries is a landscape that will leave a person breathless. Sometimes, literally.
Ladakh is also home to some fascinating wildlife with iconic species not found elsewhere in India. The Black-necked Crane, grus nigricollis, breeds in many areas of Ladakh including the Tso Kar lake and the Puga marshes. The White-throated Dipper, cinclus cinclus, is seen dipping for food in the many streams around the high passes. Tibetan and Himalayan snowcocks are heard calling high up in the mountains at sunrise. Herds of the Tibetan Wild Ass, equus kiang, are found roaming the plains of Changthang. The Himalayan blue sheep, pseudois nayaur, is found on rocky slopes all over the region. Golden eagles, lammergeiers and Upland Buzzards soar in the valleys as thermals rise in the afternoon sun. If one is intent and patient, they will also find the Hume's Groundpecker or Ground tit, pseudopodoces humilis, on the way from Tso Kar to Tso Moriri.
In summer, when the rest of India is swept by the monsoon, snow on the high passes of Ladakh melts allowing access to the 'Kingdom in the Sky'. The moisture laden monsoon clouds are blocked by the Himalayas and the open passes allow access to various remote areas. All, but two, of my trips have been by road. One lasted 3 months during the summer when I stayed with a wonderful Ladakhi family.
This book is a collection of photographs I made during my travels to Ladakh from 2008 to 2014. I hope you will enjoy the photos and, perhaps, make a trip of your own to this fantastic region.
---
About the Author

I am a self-taught photographer from Delhi. My interests range from wildlife and landscapes to travel and culture.