Is JavaScript disabled on your browser?
We're working on a way to make Superbooks work without JavaScript. You'll need javascript on your browser until we're ready.
Quick reference for the Superbook API and Tools.
Marvin Danig • Feb 13th, 2018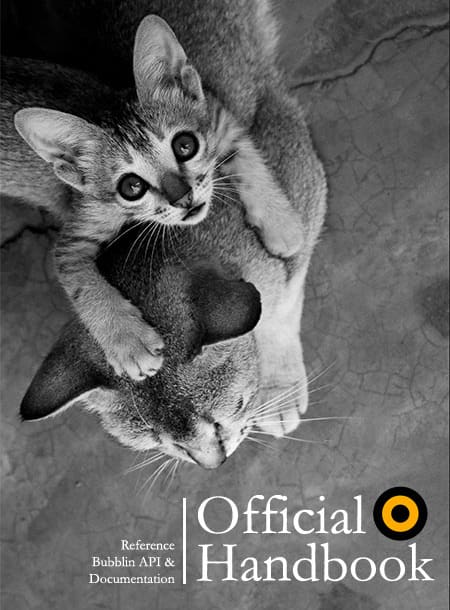 Quick reference for the Superbook API and Tools.
---
Length:

25 minutes.

Price:

FREE

Support:

All devices, all viewports, all operating systems and all modern browsers.

See support page for more information.

This book is "iPad first" and is supported on all iPads Gen 2+, iPhones 4+ (Safari, Chrome or Firefox), Kindle Fire HDX 8.9 (Silk) and above, Google Nexus & Android 5+ (Chrome, Firefox or UC Browser) and all versions of modern desktop browsers on windows, mac or linux.

Some books may contain webgl or shaders that could limit support or experience on older devices or browsers.
Synopsis
A step-by-step guide on how to write and publish books on the web, ala Superbooks.
Bubblin is a world class open and managed storytelling substrate for writers and artists. It is a community of creative people with a hunch for longform storytelling. It comes pre-integrated with Bookiza—the open source book reification framework!
Superbooks work on all devices, all viewports and all modern operating systems out there. See support information.
How does this work?
Taking your book to everyone!, not just those behind iOS or Kindle (it works for them too), is as easy as writing a blog! Use a subtle blend of "app development" techniques and classy responsive design (template layouts) to forge together a bunch of web-pages into a beautiful book that people would love.
Books on Bubblin are also future ready i.e. progressively enhanced and can be read straight off your browser offline. You'll be riding a bestseller with less than half-the-effort elsewhere!
The Official Handbook has been created using the very same tools and tips it describes.
Feel free to hack on its source @Github. Available under MIT license. Pull requests and feedback is always welcome.
---
Table of Contents
---
About the Author
I'm a JavaScript outlier. Don't believe in what most of the developer community thinks of a flat web.
In love with math, music and sky. CEO of Bubblin.
---
Colophon